YOU IMAGINE IT. WE CREATE IT.
Top Rated Mobile App Development Company
We are a mobile app development company that specializes in design & development of custom mobile applications for Android & iOS platforms. Our mobile app developers are always up-to-date with the latest technologies and tools.
Let's talk about your project?

Don't wait until tomorrow. Speak with one of our experts today and find out how to start leveraging your business.
We Are Global
No matter where your business is located, We have the experience and expertise to provide you the best solution at an affordable price.
Are you ready to work with experts of Best Mobile App Development Company?
We offer a wide range of mobile app development services
We develop end-to-end mobile applications
As expert developers for iOS and Android, we know how to make exceptional digital experiences for our clients. Our app development service is accompanied by a comprehensive set of knowledge necessary to create a strong product, from strategy, UX design, and mobile testing to launch. We are a top rated mobile app development company.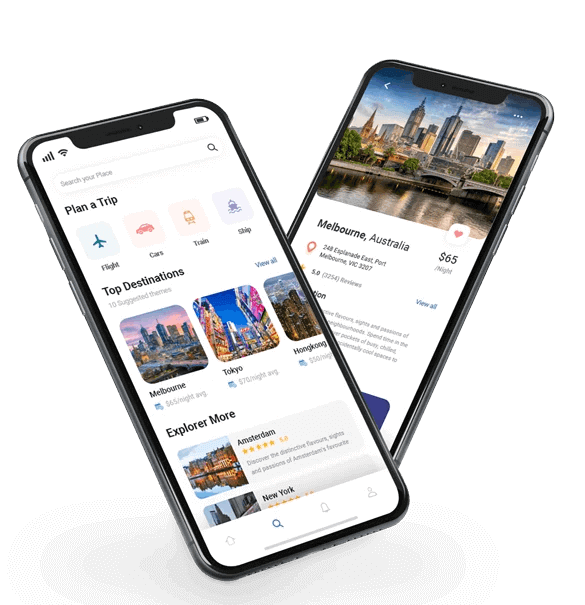 Discovery, Overview and Analysis
Understanding the value of your product is key to generating a world-class solution. This step of the process involves some of our most creative minds to figure out all constraints and opportunities, business models, and map them together to create a great app-based business.
Wireframing / UI / UX

Creating a solid structure for your project is the first step towards building an app your users love. A gradual approach to detailing the various parts and screens of your app ensures all features are fully detailed and implemented, beautifully crafted to please the most demanding audience.
Planning / Work Breakdown

Tracking progress and delivering on-time results is crucial for any app to succeed. Our agile approach to building software allows creativity to flow through the development process by breaking work into small and trackable deliverables.
Coding
We love coding. Creating world-class coding, incorporating the best agile practices and writing exceptionally clean code into blazing-fast, beautiful and scalable apps is what we do best. Backed by engineering excellence, every line of code forms part of a unique mobile experience that empowers users and brands.
Deployment

We are passionate about monitoring, maintaining, and scaling evolving applications. Deploying an application is a complex process that requires perfect execution; our teams take care of all the necessary steps to launch your project, making sure everything comes together without unexpected surprises. Our teamwork with world-renowned accelerators to help you with our expertise gained over time.
Benefits of developing a mobile application for your company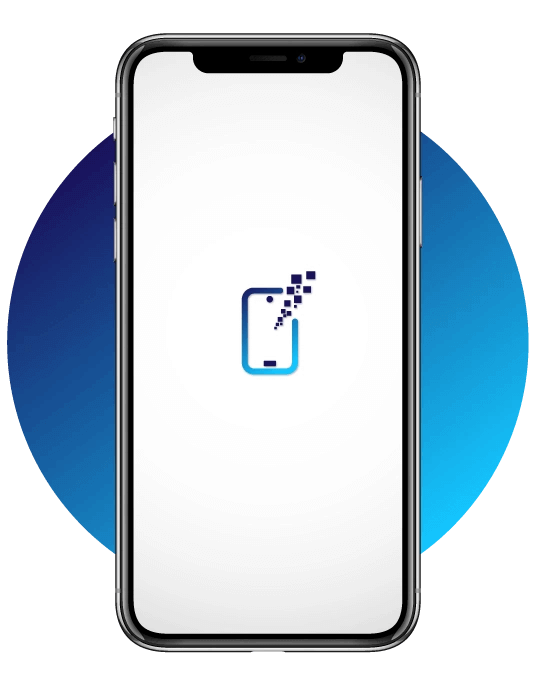 We brings your ideas to life
Our mobile application development agency supports you in all phases of your project
01.

Quality
We develop innovative tools that transform companies, facilitating business growth.
02.

Support
Our team will support you from the beginning, our experience will help make your development shine as you imagine it.
03.

Trust
We understand the importance of your development, that is why we will always be there; adjusting your development to new options and approaches.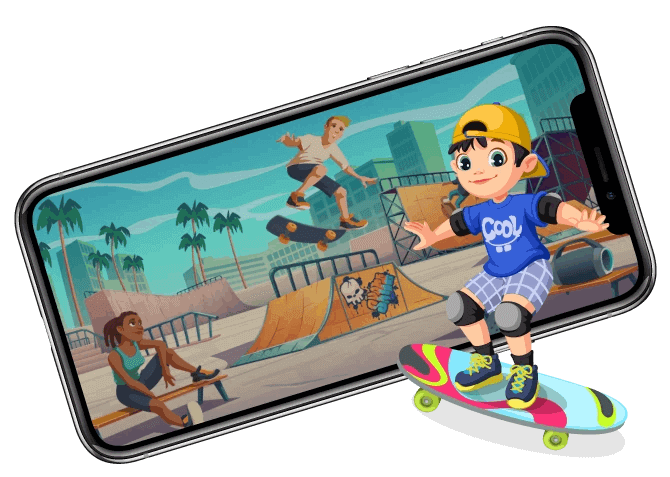 Mobile Game Development
Mobile video games have already become a genre of their own that combines high technology with impeccable graphic design. We are an expert mobile game development company and we create sophisticated and entertaining products for iOS and Android devices. With vast experience in the video game industry, our designs always achieve the highest levels.
Do you have a smart phone? Millions of people around the world, too. Reach them with exciting games. Contact us and discover how easy it is.
We build mobile application solutions for all the niches
No matter under which niche your project falls, with the help of our experienced mobile app developers, we can deliver you with robust mobile application solutions.
Frequently Asked Questions
All you need to know about Mobile Apps
How much does it cost to develop a mobile app?

The cost of an application is always related to the scope of the project and its final functionalities, as well as the platforms and operating systems it covers. If you want to know the cost of your idea and if you require an in-depth quote, already having a more concrete idea of ​​what you need, visit our Quote.

How many hours does it take to develop an app?

The development time of an application always depends on the scope of the project and its functionalities. An app of medium complexity, for example, could take between 2-4 weeks to few months to develop.

After having all the necessary information about your project, our team analyzes all the requirements and estimates the time it takes for each functionality, integrating Analysis, Development, Design, Testing, and Implementation efforts.
What is Mobile Application?

If you have a Smartphone, you have most likely interacted with various types of mobile applications such as games, weather applications, news, etc. And although it may seem strange, applications have been with us for a long time. Devices like the Blackberry already implemented these technologies. But what exactly is a mobile app?

The first thing we must know before entering the wonderful world of mobile applications is that an application is still software. It is commonly thought that a mobile application and software are two different things; but … what a surprise! They are not.

Previously, mobile applications were very basic and responded to actions of daily life such as calculators, calendars, or alerts. Over time this has changed a lot; now we find as much variety and diversity in mobile applications as in computer programs.

Why does my company need a mobile application?

One of the most important challenges for companies and brands today is to stay close to their customers and users through the different platforms that arise day by day, however, it is not always necessary or mandatory to be and have all the tools marketing that exists to achieve the stated objectives. Different companies have approached us with the concern and question if it is really necessary to invest or not in a mobile application for their business.

By way of definition, we understand by mobile applications the programs that we install on our smartphones or tablets, through application markets such as the Google Play Store (Android) or the AppStore (iOS). Why would a mobile application be more useful than other digital tools?

Perhaps, it is pertinent to first ask this question, since if what you are looking for is to achieve business goals and objectives you do not necessarily have to have a mobile application, it is very likely that there are various tools that help to achieve a high impact in such a way that generate closeness between the company and the various users.

Specific are the cases of companies and/or brands that we could mention, which have found a mobile application useful and functional, for example, Cinepolis, The Wheather Channel, Trivago, etc; Applications that due to their frequency of use and personalized settings generate in users the need to download them and even adjust the space within their smartphone or tablet for a certain app that they constantly use.

You can improve your relationships with your customers

Whatever the sector, whatever type of product or service you offer, if you have a target audience, having a mobile application is very important for your interaction with them. Because now internet users have started to prefer mobile devices more than desktop computers. One of the main reasons is the mobile applications that they can access at any time.

You can reach your target audience whenever they want, capture them anytime, and build your mobile app without wasting time.

You can use as a channel for advertising and promotion

When mobile applications are well developed, they can also be effective in building strong connections between businesses and their target audience.

Raising brand awareness and being able to have your voice heard with your target audience at all times can be seen as a great opportunity to build brand loyalty for a business.

The instant notification features of mobile apps can also provide you great benefits to deliver the desired information, news, campaigns, and announcements to your target audience anytime.

You Can Generate Income With Your Mobile App

The mobile apps that you create effectively can not only promote your brand but also increase your income as a sales channel. You can make and profit from product sales through mobile apps.

Increase your access to your target audience

Mobile devices are gaining in popularity resulting in easy access to the Internet and the expansion of the Internet network. Internet access is no longer limited to specific areas or devices.

Many mobile devices, such as smartphones, tablets, and laptops provide a great convenience for users. Therefore, it can be useful to develop a mobile application compatible with all platforms in order to reach your target audience anywhere, via all devices.

You can gain prestige

The widespread use of mobile apps and the inclusion of many powerful brands in the mobile world has allowed users to rate these apps as prestige.

Users can expect to benefit from the mobile applications of a company for which they use their services or of a brand for which they use their products. Remember, 97% of mobile users search mobile to find products and services around them.

At this point, businesses without mobile apps may lag behind their competition. If you haven't taken your place in this rapidly changing world, it pays to create your mobile app right away to avoid losing prestige.

Also, note that mobile apps can produce faster and more efficient results on different platforms than websites. You can instantly assess all the developments in the fast-paced world of the Internet to the benefit of your business.

You can offer your products and services to your target audience whenever they want through your mobile app. If you do not yet have a mobile application, our agency offers you all the assistance you need to create a top-quality mobile application as quickly as possible.

Our mobile app developers are always up-to-date with the latest technologies and tools

What is the difference between an mobile app and a web app?

An App or mobile application is an independent program that is installed on different smartphones or tablets to perform specific "On The Go" functionalities, such as answering a message quickly, listening to music or receiving notifications.

A Web App can be opened from a browser web and its main functionalities are used "On Site" as for example, a content manager.
Our clients simply love our work

Not only do they know how to code and make apps, but they also have a strong team of designers and specialists in social media strategies focused on sales. I will definitely contact you for future projects.
Our collaboration results in the creation of a very well finished product, meeting my needs exactly. I particularly appreciated the team's adaptability, their proximity, and their facilitating relationship.
Alex Klein
- Wildlife Photographer
We had no knowledge of mobile applications and today we have a working solution. The agency identified our problem very well and offered us a solution that answered it perfectly. They have also shown great availability.
We were looking for a programming service for a tailor-made time management application in the company. The agency was able to answer it by even exceeding our expectations. Thanks again for your great work.
Richard Miller
- Holidays Gateway
I had the chance and the privilege to benefit from the professional services of an agency to build my new app. I can even say that the result and the process exceeded my expectations. It is without hesitation that I warmly recommend this agency for your mobile solutions.
Steve Williams
- JSA Architect
We deliver more than just a mobile app development services
We develop the APPS that make your life easier



WE CREATE SOLUTIONS

At the core of our mobile app development agency, we focus more on the solutions we create and how they positively impact your business than simply producing apps. We love simple concepts and apply everything we have learned over the past many years to grow businesses like yours We know how to transmit your ideas through mobile applications.



WE ARE CREATIVE

All our applications have a fresh and modern design, respecting the industry standards set by Android and Apple Design Guidelines. Our experienced designers create a design concept: graphic images, icons, and other elements, making sure they reflect your business identity. We are experts in making our App the best reflection of our clients' brand.



WE ARE ON TIME

We understand that only speed and quality can help you stay ahead of your competition and that is why we have perfected the art and science of accelerated mobile app development. Through rapid application development, your business could take much less time to bring your mobile application to market and stay ahead of your competition.
QUOTE YOUR IDEA AT NO COST
Do you already have an incredible idea to create an app? Quote it with us.
Just tell us briefly what you want and even the budget you have.